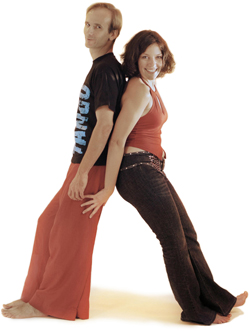 photo: Paul Jimenez (

http://pictures.jimenez.at/

)
Vesna and Holger
Vesna discovered Tango Argentino in 2002 (in Ljubljana and northern Italy) and was immediately attracted by the devotion and attentive listening of the dance partners to each other while in the same time expressing the music. Connecting her experience from singing, she draws a parallel in tango: "To sing with one's own body, like with a voice, can give colour and expression to the movement. During the dance I am 'singing' for myself as well as for my dance partner. When 'singing' together we are creating a wonderful communication". She started to teach tango in Slovenia in 2004.
Holger began to dance Tango Argentino in 1994 having made his first contact to tango music (mainly Tango Nuevo) during his studies of sound engineering in Graz/Austria. Supported by more than five years experience of teaching complex movements in acrobatic sports (freestyle skiing and trampolining) he found a smooth access to teaching Tango, when helping Nina Oresic to grow the Ljubljana Tango scene from 1998 on. "What makes the fascination of Tango Argentino for me is first the completeness of a cultural development in music, dance and poetry, second the more or less worldwide network, and third that Tango as the social dance is such an unconditional and wholehearted communication connecting the two persons dancing as a couple, as well as all the others sharing the same dance floor ..."
Vesna & Holger began teaching Tango together in 2005. Since then they have been invited to Celje and Ljubljana (Slovenia), Zagreb and Pula (Croatia), Skopje (Macedonia) and Klagenfurt (Austria). Recently they have begun to offer regular classes in Graz (Austria) in the framework of Tango GRAZioso (http://tangograzioso.at/). In their methodology they both like to emphasize the high degree of communication in the couple as well as the improvised musical interpretation which distinguishes Tango Argentino from many other social dances.