Ina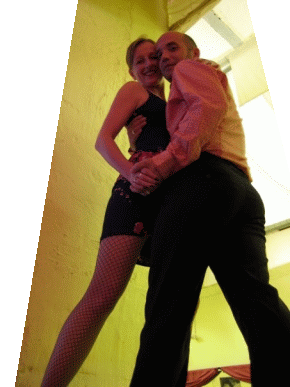 Ina is dancing Tango since 1996. She is enthusiastically using the Milonguero stile and the influences of Neo-Tango for her dancing. Additional to her tango "home" in Aachen and its surrounding area she is a frequent visitor of the famous "El corte" in Nijmegen.
Her teaching is clearly structured, starting with the basic body movements and incorporating all the subtleties of Tango music. Her classes incorporate Ina's long time didactic and methodical experiences of bodywork, ballet and ballroom dances.
"When the pupils' faces start smiling, I am happy!"
Inspired by a children's TV program, Ina started ballet classes at five years old and went through a classical ballet and Jazz dance education into a career in national and international ballroom competition dancing. In 1992 she finished a two year-long training as a dance educationist. Since than she has been working as choreograph, teacher and partner for dancing classes and individual couples.
Ina's first contact with Tango Argentino was in 1996 at a workshop with Ricardo and Nicole, who have deeply influenced her understanding of Tango. Other teachers like Nancy y Damian, Diego and Mecha und Eric Jeurissen.are also a source of inspiration to her. She has been teaching Tango since 1999 and became one of the founders and developers of the Tango scene at "El Corazon" in Aachen.
More information on Ina's work in Aachen/Germany: http://www.tango-aachen.de/