Hannah A. Tomsic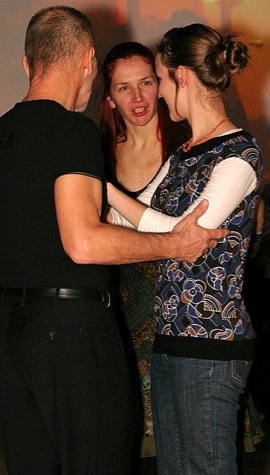 Hannah is a tango dancer and teacher from Kranj, Slovenia, comfortable in the roles of both follower and leader. In her dancing and working with students she puts the emphasis on the natural and calm body movements, the free flow of energy within and between the two bodies, and the creativity of movements that tango music and social environments offer. She focusses on the needs of individual students through focussed personal attention and a variety of demonstrative and explanatory methods.
Hannah has been dancing tango since 1999. For the past 10 years she has been collecting dance knowledge and experience during her studying and working in Spain, the US and Germany, as well as during extensive travels to Argentina and the Netherlands.
Since 2007 she is based in Kranj, Slovenia, where she has been primarily teaching tango and organizing tango events (milongas and summer camps).
Her teaching approach aims at developing the body awareness, returning to the natural sense of rhythm, and reaching the state of relaxation and centeredness while dancing. She encourages the students to let go off the rational control, to be in tune with their prevalent (male or female) energy and to aim at the intrinsic connection with their dance partner, based on mutual respect and acceptance.